Glass Box Gift Shop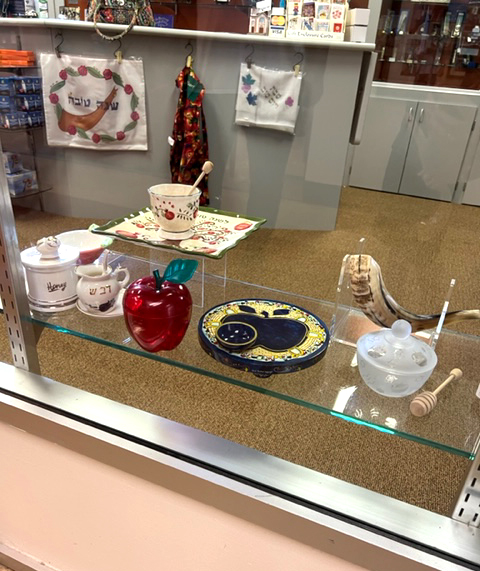 This shop's walls house the most complete yet eclectic collection of Judaica available in Milwaukee.  From Shabbat candles, holders, drippers, challah plates and covers, kiddush cups and washing sets to Havdalah sets for home and for travel in brass, glass, silver, or ceramic…it's all in The Glass Box.
Whatever the occasion — new baby, Bar or Bat Mitzvah, Confirmation, wedding — this is the place to one-stop-shop for your entire calendar year.  We have everything for every holiday plus Kippot, Tallit and Tefillin, toys and educational games, books for cooks, for students, and for fun, mezzuzot for every door in every imaginable size, shape, style, and material and Kosher parchments from Israel to put in them.  Let's not forget Ketubot and other creations by artists from all over the world as well as exquisite hand designed jewelry in gold and silver with precious stones, enamel work, and glass beads.
This is a collection that must be seen to be believed.  Please let our friendly staff guide you to the perfect selection for any age or interest, and then gift wrap it for you, free of charge.  There's a special treasure awaiting shoppers and it's nestled in a "glass box!"
(414) 351-4221
Please call first to make sure the gift shop is open as there are holidays throughout the year that may occasionally affect the hours of operation.
Regular Hours
Sunday – 10:00 am – 11:30 am (when religious school in session)
Monday – Closed
Tuesday – 10:00 am – 2:00 pm
Wednesday – 10:00 am – 12:00 noon
Thursday – Closed
Friday – 10:00 am – 12:00 noon
Saturday – Closed