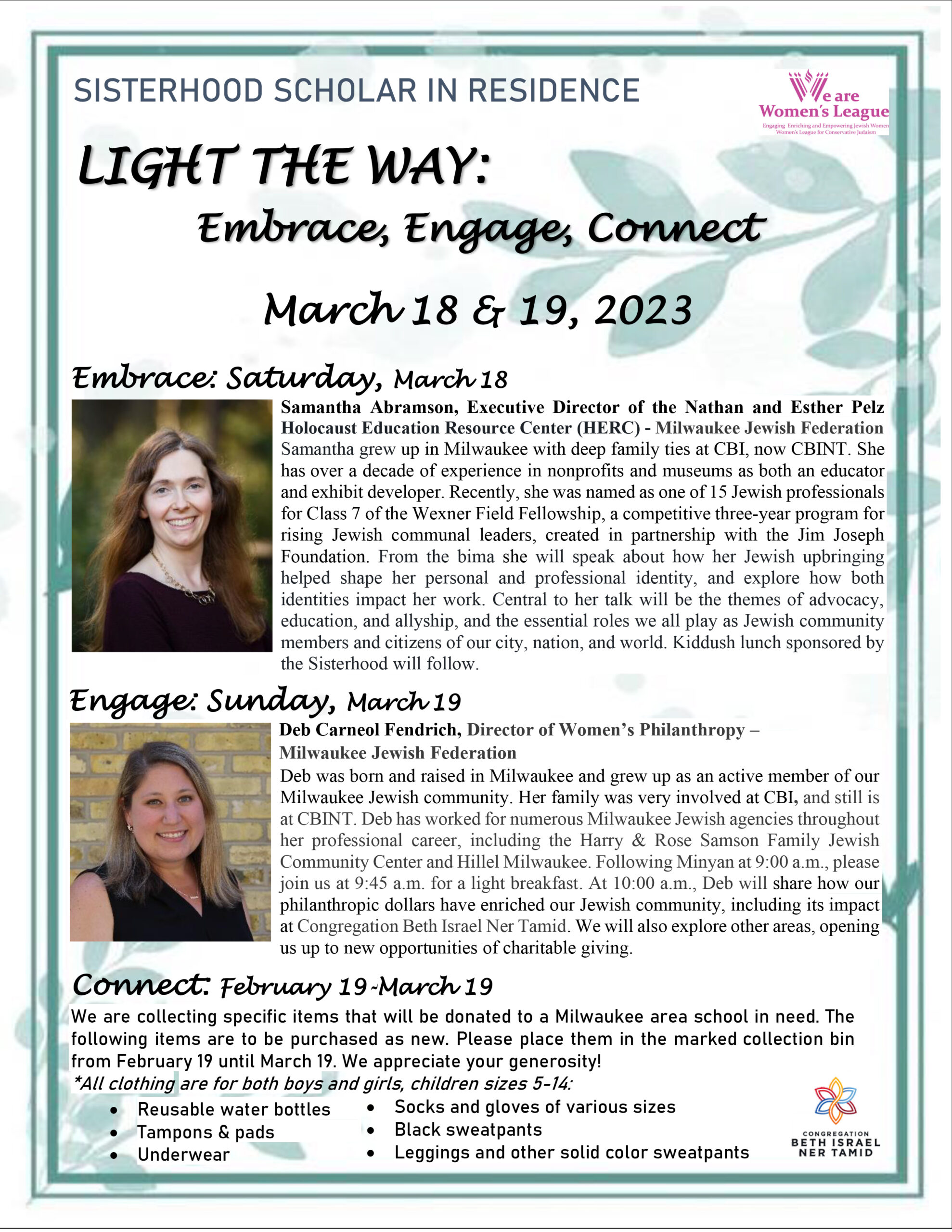 "Light the Way: Embrace, Engage, Connect". 
This year, we have chosen two speakers who have roots at our kehillah, have grown professionally and flourished as successful leaders in the Milwaukee Jewish community. Saturday, March 18, Samantha Abramson, Executive Director of the Nathan and Esther Pelz Holocaust Education Resource Center (HERC) of the Milwaukee Jewish Federation, will speak from the bima on how her Jewish upbringing helped shape her personal and professional identity, and explore how both identities impact her work. Central to her talk will be the themes of advocacy, education, and allyship, and the essential roles we all play as Jewish community members and citizens of our city, nation, and world. Kiddush lunch sponsored by the Sisterhood will follow. Sunday, March 19, at 9:45am we will provide a light breakfast following minyan. At 10:00am, we welcome Deb Carneol Fendrich, Director of Women's Philanthropy – the Milwaukee Jewish Federation. Deb will share how our philanthropic dollars have enriched our Jewish community, including its impact at Congregation Beth Israel Ner Tamid. We will also explore other areas, opening us up to new opportunities of charitable giving.
To add to the theme, we are collecting specific items that will be donated to a Milwaukee area school in need. The following items are to be purchased as new. Please place them in the marked collection bin from February 19 until March 19. We appreciate your generosity!
*Please note that all clothing is for both boy and girl children, sizes 5-14: Reusable water bottles, tampons & pads, black sweatpants, leggings, other types of pants (preferably solid color), underwear, socks and gloves of various sizes.